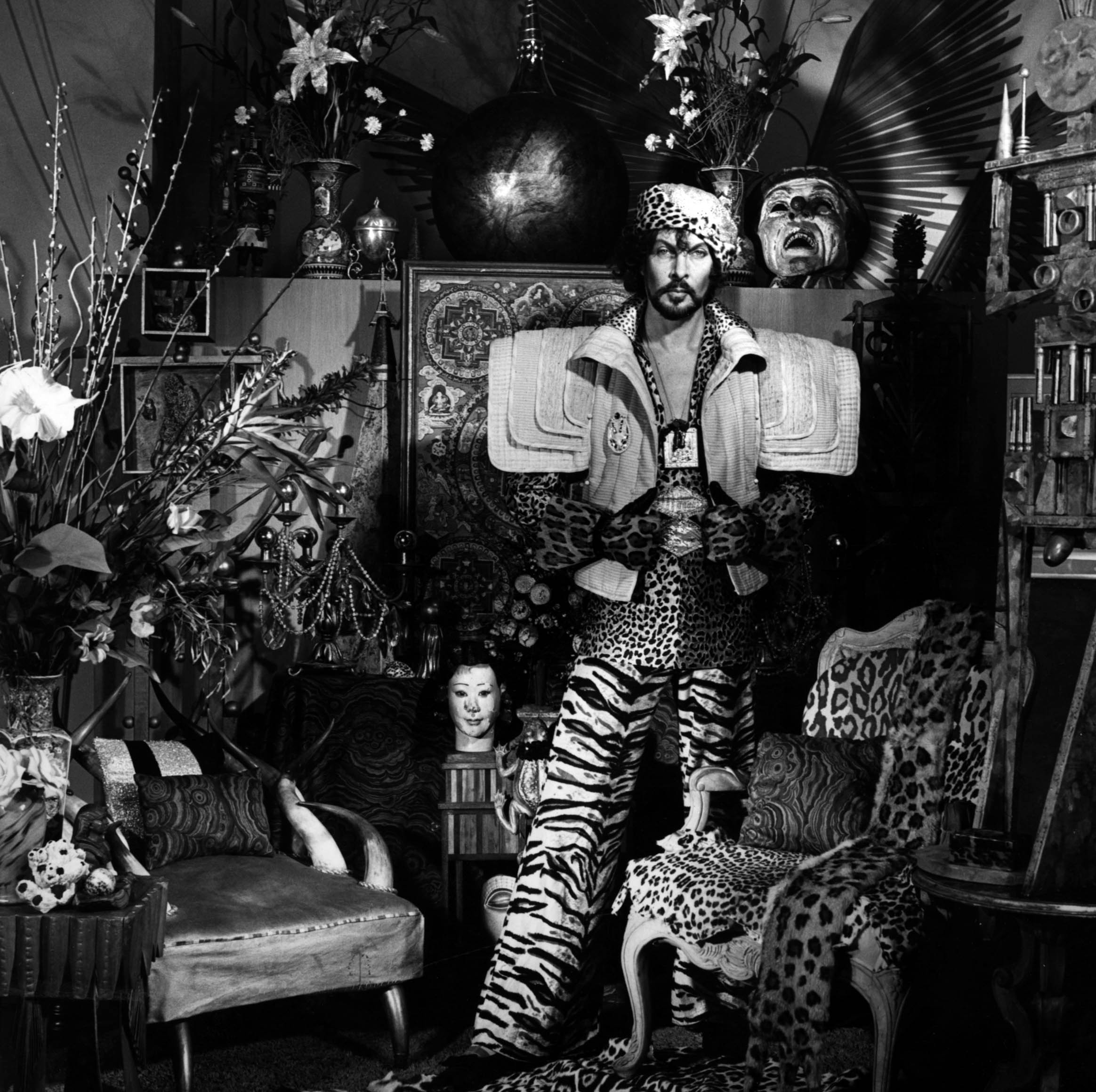 Steven F. Arnold
(1943-1994)
Steven F. Arnold (1943-1994), trendsetting American artist and protégé of Salvador Dali, was a visionary filmmaker, photographer, painter, illustrator, set and costume designer, and assemblage artist.
"My angels
Please don't take me for granted – I'm a rare
Freak of nature and now is the time to appreciate
What I am saying to the Earth!
Love, Steven Arnold"
"This is the return of the female powers to balance the Earth
The female energies come forth and heal the planet –
as holicaust and greed stir hatred,
The Mother of Earth saves us and unites us – We her children."
"Our childish behavior melts away in the realization
Of the balance of Earth's true energies –
We drop to our knees in humility
Witnessing the grace and beauty of our own human cycles."
 "The Earth lifts its feminine veil for a new balance of nature –
Look at your mothers and sisters before you act –
Listen to their compassion and grace
This is the wisdom of balance in the Earth and where we now need to turn."
"I interview myself all day long – Doesn't every one?
Rant and rave about bliss, the creative process angels listening to higher message-
appreciation of ones gifts.
The best way is to elevate consciousness is to do the work with love
Love is sharing the message."
"Art is revolution or it's nothing ."
" My drawings are my own language, voices from my subconscious... automatic image writing.  I draw directly on the paper with my pen without preconceiving anything - allowing the drawings to make themselves.  Often I am surprised and shocked by what appears -...
read more
Inspired endlessly by his dreams, Steven Arnold would wake each day to capture his nightly visions is his sketchbooks.  While most of these drawings were translated into photography, paintings, and sculpture, there are many which stand on their own as unique works of...
read more
"Don't violate your own magic or water it down: Trust intuitive forces within Creative Madness must be free to flow Spirits will guide - relax and receive Listen to the voices, emanate clarity Allow the images to create their own meaning Listen for Dalai Lama Ancient...
read more
This San Franscisco Magazine cover, which could nearly pass for a modern day Lady Gaga article, was taken from Steven's 1971 full-length surrealistic film Luminous Procuress, and features Pandora, Steven's life-long friend, muse, and...
read more
When New Line Cinema First started their distribution company, two of the first films that they chose to release were Steven Arnold's "Luminous Procuress", and John Waters' "Pink Flamingos."  New Line has continued to distribute many successful films including the...
read more
CONTACT STEVEN ARNOLD ARCHIVE
For Media Inquiries contact:


Kathleen Rogers
199 Main St., Suite 224
Ellsworth, ME 04605
ph 207.460.9806
fax 207.667.6393
kat@klrcomm.com
For Inquiries regarding the Website, contact 3 deep breaths LLC
To contact The Steven Arnold Museum and Archive directly, please use the form below.